Roadside Assistance – All you need to know
Was the prospect of a carefree weekend the only thing that got you through your long and tiring week? We've all been there. You wake up on Saturday morning feeling energized and head out with your family on a well-deserved trip. But alas! There you are, miles from home, smoke rising out of your car engine, stranded on the side of the road.
But all hope is not lost. So, before you facepalm and descend into a state of gloom, familiarize yourself with these words: Roadside Assistance.
What is roadside assistance?
It is what comes to your rescue every time your vehicle breaks down and leaves you stranded. Think of it as your knight in shining ar-well, a shining uniform. A service professional is sent to your aid, who will diagnose the cause of the breakdown and attempt to fix it. This could include instant fixes such as jump-starting your vehicle or changing a flat tyre. In case of issues with no instantaneous fixes, you are provided with towing facility.
What services are included in roadside assistance?
As the proud owner of a vehicle, you would be well aware of the innumerable things that could go wrong during a drive. If you are to find yourself in such a situation, you would need one or more of the following services that are provided under roadside assistance:
Onsite assistance: Minor mechanical issues can be resolved by the service professional at the site of breakdown itself.
Battery jump-start:  The service professional may attempt to start your vehicle by jump-starting the battery, if the situation so demands.
Lost keys/locked out: If you are locked out of your vehicle for any reason, the service professional will attempt to unlock the door using certain tools. If this attempt is unsuccessful, then a locksmith would be made to provide the required service.
Flat tyres: The service professional will replace your flat tyre with your spare or with their own, in case you don't have a spare tyre.
Fuelling: If you run out of fuel while driving, the service professional will provide your vehicle with enough fuel to get you to the nearest gas station.
Remote assistance: You can also avail help over call. If the issue can be fixed easily, an expert will guide you through the process and ensure that the issue is resolved.
Towing: If remote or onsite resolution is not possible, your vehicle will be towed to the nearest workshop.
Extrication: If your vehicle is constrained or stuck somewhere and you cannot get it out, roadside assistance will extricate, or in other words, free your vehicle using cranes and other necessary means.
Cab assistance/accommodation: If your vehicle needs to be towed, you will be provided with cab service to get you to a convenient location, and/or hotel accommodation depending on the circumstances.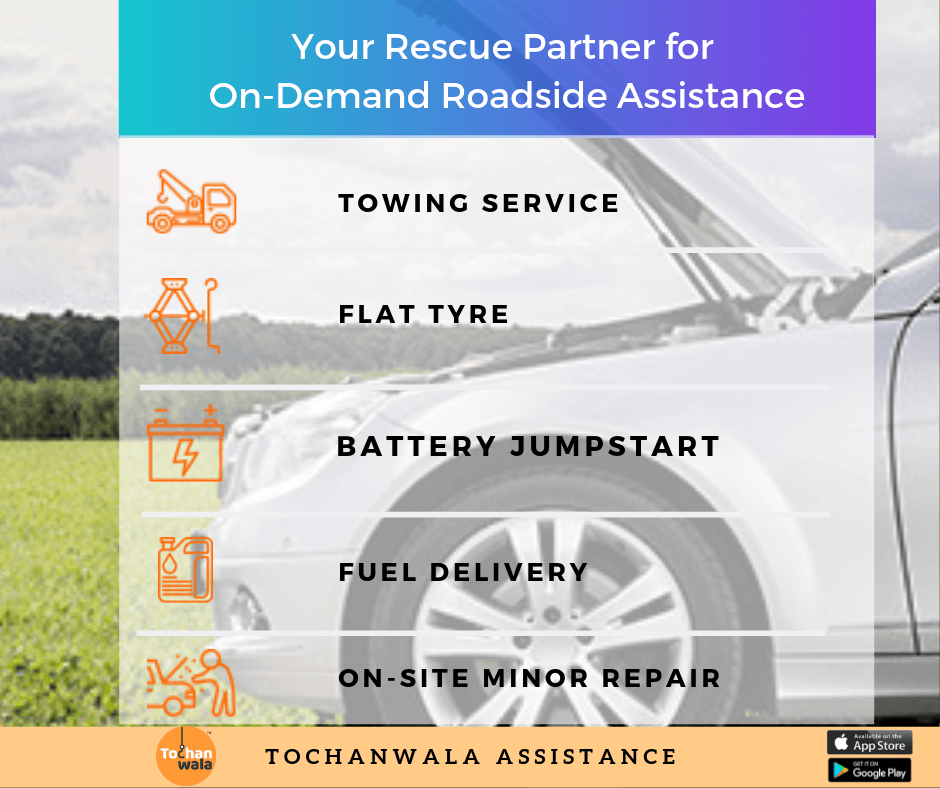 Why should you get roadside assistance cover?
You have already read about the different ways in which your vehicle can breakdown. We do not have control over when it could happen, especially in the case of older vehicles. As vehicles are a lot more complex these days than they once used to be, we couldn't hope to always repair it without some technical knowledge. So, it is advisable to get roadside assistance covered for your vehicle.
As they say, better to be safe than sorry. So before you hop onto your car for that much-awaited weekend trip, ensure that you have roadside assistance covered for a smooth journey.
Visit www.tochanwala.in and get yourself an RSA package at a reasonable rate.
Roadside Assistance Help at your fingertips now available on Apple-App Store for iOS users and Google-Play Store for Android users.